http://progressiverockcentral.com/2012/05/04/a-superbly-gifted-violinist/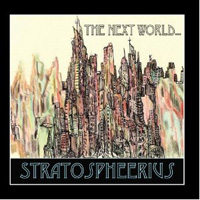 Stratospheerius – The Next World
Stratospheerius
The Next World (Digital Nations, 2012)
A leading candidate for best rock album of 2012 is the deliciously addictive album The Next World by Stratospheerius. The wide-ranging New York-based band is the brainchild of electric violin sensation Joe Deninzon.
Stratospheerius displays violin virtuoso, mandolinist and vocalist Joe Deninzon at his prime, accompanied by three outstanding musicians: Lucianna Padmore on drums, Aurelien Budynek on guitar and vocals, and Jamie Bishop on bass and vocals.
The Next World mixes state of the art progressive rock, jazz fusion, Dave Matthews Band-style jam band rock, contemporary bluegrass, cutting edge electronica, blues, folk-rock vocals harmonies, and even Balkan Gypsy music. Joe Deninzon's dazzling violin solos, creative loops and effects are clearly spectacular and demonstrate that is one of the most talented instrumentalists in the current rock scene.
The Next World is dedicated to the late Bob Bowen, the bassist in both Stratospheerius and the Joe Deninzon Trio. Bob was killed in a bicycle accident in Manhattan (New York) in 2010. Bob's bass appears on the track "The House Always Wins." Bob Bowen also created the cover artwork for the album.
The Next World combines solid songwriting and tradition with extraordinary electric violin work and the sounds of the future.