'Headspace'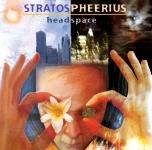 As one can infer from the front cover, the band I am about to describe is really unique as for both genre, techniques used and arrangements. I beg forgiveness in sackcloth and ashes because I neglected attention to their previous works, which means I don't have a touchstone from the past, but hey…there are so many bands around and too many releases. One lifetime couldn't be enough even if one dedicated their whole free time to music, and I am one who's very close to that goal actually!
Anyway, the opener "New Material" begins deceiving you by making you think Stratospheerius are in the vein of Red Hot Chili Peppers, but then the electric violin and track plot bring towards T-Ride and the likes. Excellent are the bass lines by the way.
"Old Ghosts" is a danceable groovy Rock that has some percussions and hooks that have connections to Santana. The amplified guitar and the violin are the protagonists here and they are perfectly in tune; after all, when the guitar didn't exist yet, the fiddle was already notorious because of rumors about musicians such as Italian Tartini's and Niccolò Paganini's; the latter, perhaps because of his otherworldly skill, had devilish tales swirl around him. In fact, he was rumored to:
Have sold his soul to the devil, or even himself be Satan incarnate
Use the guts of murdered women as string material for his violins
Have been imprisoned for gambling debts
Due to the superstitions surrounding him, and the fact that he didn't receive last rights before death, permission to bury his body in consecrated ground was withheld until five years after his death, after an official inquiry could be made into his orthodoxy, and his son could give a generous 'donation' to the church. Moreover the Evil One, as agent of death and creator of dance, became linked to the violin during the Renaissance period, as depicted by paintings such as Pieter Brueghel's "The Triumph of Death" and Hendrik Goltzius's "Couple Playing, with Death Behind". These introductory statements are necessary as every song is made particular by the acoustic or the electric violin, and this is especially valid for "Sold out"; like all string instruments it is more difficult to play than a piano for instance, because you need more precision but this major effort is repaid by the infinite nuances you can achieve; the solo is therefore vital and this one is – without exaggeration – awesome, since it is played in a guitaristic manner.
Coordinates vary completely with the record highlight, "Today Is Tomorrow", reminding of Genesis in the vocals and Incubus (USA) when the distorted guitar bursts into; the utmost care was delivered to the guitar licks and the bass windings along with the moog psychedelic inserts make it suitable as a single, whereas "Mental Floss" and "Gutterpunk Blues" are perfect candidates for modern Western flick soundtracks; there're wah-wah, John Zorn, psychedelia, acoustic guitar, guitar shredding and everything is skillfully performed. Each member is a master of their instrument and the emotive links between the 4 members is real considerable.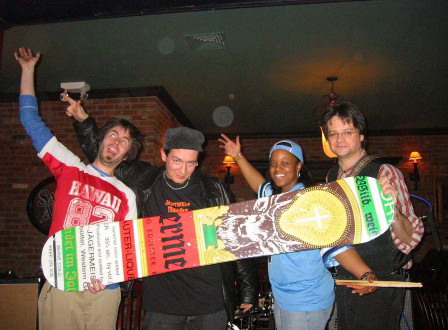 The elegance of the cover "Driven to Tears", originally composed by the Police, melts with the fat bass sinuosity, while the frantic and surgical drum work is closer to a gardener's chisel; decidedly moving are the lyrics, surpassing the other ones that Sting's band wrote as for their mordant; such topics are still topical, altho the song is about 25 years old.
Multiformity is guaranteed by New Jersey's musicians but at the same there's always a link with the full length as a whole; that's why "Yulia" is no exception, even tho it deal with Jazz Rock in a fairly free and romanticist way, whereas "Long Rd." manages to combine Funky rock with a fairly melancholic violin. It may sound like a heresy impossible to realize but Joe Deninzon and his pack made it real!
In conclusion, "Heavy Shtettle Part II: Heavier Shtettle" is the only composition written by four hands together with Mr. Alex Skolnick; curb your headbanging, because it is heavy, especially the final part in crescendo, but it is not Heavy metal and it is based on Middle-East percussions and rhythms; another masterpiece indeed!
One more thing to stress out is the excellent recording giving great attention to detail, which is vital to albums like this.
After all it turned out to be a positive thing that a band of this kind has come out these times; I fear that if they'd started in the 80's they would have been understood by too few people, while now the public is more mature in all. Surely in the 70's there was more place for avantgarde artists and labels were not as oppressive and market-oriented as nowadays', yet it seems unlikely that some major would have signed them, as they are too forward with their minds! About the 90's enough has been said and the decline of music sales and the excess of releases, so I will limit myself to claim that today's tighter competition has been a timely useful spur to the four-piece.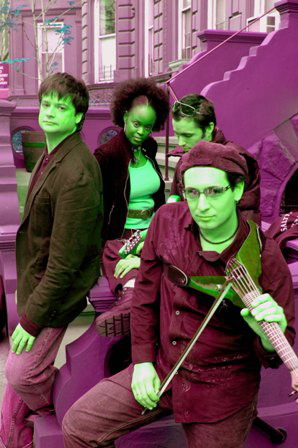 The violin has never been made so topical like now, and most of the time its notes stay far from nostalgia or melancholy, the way bands such as My Dying Bride have accustomed us. Were they still alive, my country-fellows Vivaldi and virtuosist Paganini would be crying for joy, but also more recent violinists such as Stravinskij, Prokofiev and Sciostakovic would like to attend a Rock gig of the quartet, no shit!
If you have an open mind, tastes that range from Frank Zappa, Mahavishnu Orchestra, Dave Matthews, Radiohead, Jeff Beck, Bela Fleck and Blues Traveler and are in search of something different, go for this record; for once the band's name doesn't exaggerate and is up to the expectations created. No, you won't get bored even after a century by these 10 tracks, my word!
MARKUS GANZHERRLICH – April 20th, 2009
Line-up on this record:
Mack Price – electric and acoustic guitar, vocals
Lucianna Padmore – drums
Bob Bowen – electric bass, moog, vocals
Joe Deninzon – acoustic violin, 6-string fretless violin, 7-string fretted electric violin, mandolin, lead vocals, acoustic guitar
Benny Koonyevsky- guest percussions